One weekend and 22+ miles of Star Wars inspired running- a recap of my 2016 Star Wars Dark Side runDisney race weekend!
Over three days I ran the 5k with Noah, the 10k Saturday morning, and the half marathon Sunday morning, and I had a lot of fun at each race for different reasons.  First, some background on runDisney.
What's the deal with runDisney anyway?
This was my first runDisney race weekend, and it's worth asking- What is it that makes a runDisney race special- and worth the expense and the travel?  The atmosphere, the course, the photo ops, and for me the race shirts.  Where does runDisney come up short?  The price, the size of the race, and the (in)convenience.
The Positives:
Atmosphere.  From what I could tell beforehand I imagined there would be a ton of costumed runners- and I was not disappointed.  The fact that practically all of the costumes were Star Wars costumes made the race atmosphere perfect.  Dressed in our matching Under Armour Darth Vader tech shirts, Noah and I fit right in.  If anything I would suggest thinking more out of the box/over the top when it comes to costumes- you'll stand out more and get more compliments from fellow fans & runners.  Plus your character pictures will be that much better.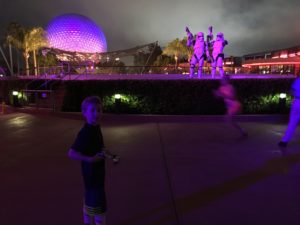 Course.  Looking past the fellow runners, each of the three race courses was littered with various nods to the Star Wars universe:  multiple character stops (more below), areas where the star wars soundtrack played over the on-course sound-system, and gigantic television screens replaying iconic movie moments.  Two amazing moments were barreling down the 5k finish line as the Trench Run played alongside on the big screen, and getting that extra bit of motivation on the last quarter of the race by watching Rey's snowy showdown with Kylo Ren.
As for the course route themselves (shown below), the races ran through Epcot (5k, 10k, and half), Hollywood Studios (10k and half), and Animal Kingdom (just the half).  If you like Disney, than you'll appreciate running through a part of these theme parks and experiencing them in a different way.  Namely, devoid of tourists but completely lit up.  For the longer two races it was also interesting running between Epcot & Hollywood Studios along the boardwalk- an area I had never visited.  Finally, some folks might appreciate the relatively flat courses, especially the 5k.
Photo-Ops. I can't think of many other races where there is such a strong reason to stop (multiple times) on the course just to take pictures.  I'm not talking about stopping to take a picture of the Epcot Dome or the Tower of Terror, but getting in line to take pictures with a variety of different star wars characters during each race.  On the 5k you could stop, wait in line, and get pictures with R2D2, Chewbacca, and a pair Stormtroopers.  The 10k and half marathon each added a few other stops along the way.
Relatedly, if you plan to take advantage of the photo stops that really ratchets down the pressure on your race pace. Not only will most runners make quick stops for water or fuel, stopping to wait for a character photo during a runDisney race is practically de rigueur.
Race Shirts.  I really like the race shirts I got for the weekend.  Are they worth $400?  No.  But they are pretty cool.  In all the registration fees covered a cotton tee for the 5k, and tech shirts for the 10k, half marathon, and dark side challenge.
Ok, so what are the downsides to runDisney?
Price.  The 5k alone was $75.  Not kidding.  So for my son and I to run a 30 minute race we paid $150.  Actually scratch that, I was kidding.  With Active.com's fees on top of the race fees, we spent $160.76 for two 5k bibs.  Oh and the rest of the weekend?  Specifically the 10k and the half marathon 'Dark Side Challenge'?  That's another $351.95.  $510 for 25.5 miles? That is pretty steep considering I just signed up for a slightly longer marathon for a tenth of that price.
Race Size.  The 5k had about 10,000 participants.  The 10k had over 12,000 finishers.  To top it off the half marathon had over 18,000 finishers!  Presumably each of the latter two races had a fair amount more participants that started the race but did not finish (DNF).   The 5k had six corrals, and the 10k and half marathon used twelve corrals.  Basically, each corral had some 2,000 participants- if not many more.
By my recollection roughly five minutes separated the start of each corral- so runners starting in the last corral L would start at roughly 6:10am- or 70 minutes after the official race sart!  That is a lot of time waiting around, especially considering that almost everyone probably woke up around 3am to make it to the pre-race start.
I wasn't sure how strict they'd be with corrals.  As it turns out its not impossible to get into an earlier corral with the right attitude.  Despite a corral F assignment in the 10k, I heard of a runner that made his way to corral D, bypassing a few thousand runners. If you want to avoid some of the big course bottlenecks- or find shorter lines for the characters on the course- than getting into an earlier corral (by submitting your fastest race time ahead of the deadline) is vital.  And something you don't have to worry about in almost any other race.
Inconvenience.  First, most readers probably aren't Florida residents, so getting to the race takes a fair amount of planning and resources in the first place.  Next, this isn't your local race where you can drive in a little while before start and park close by.  To the contrary, you'll have to wake up hours in advance- before 3am to get to the half marathon corrals in time- possibly multiple days in a row to do the challenge.  These wake up calls would be tough enough alone, but if you have a family in tow expecting to have full vacation days during the race weekend than your vacation will require a ton of energy.
For me the amount of walking before and after the races was  the least inconvenient thing, but something to keep in mind.  It being DisneyWorld I expected lots of walking and lots of waiting (line rides as far as the eye can see!) and here again my expectations were duly met. It felt like there was about a mile of walking between the bus stop on one side of the Epcot lot and the corrals on the other.
Reading over another race recap, one runner mentions his "three runDisney race commandments:  1. Early start times are earlier than you think, 2. you will not PR, and 3. Smile!"  Each one seems accurate.  Ignoring the early start times and addressing the two remaining points- Its tough to "race" any of these races since there are so many people, and various parts of the race basically serve as lower capacity chokepoints.  Furthermore, If you do try to PR, you will probably wind up running past the many moments that are unique to runDisney and justify the insane registration fees.  In no other race series can you get photos with stormtroopers mid race, or stop to look across the Epcot world lagoon to see the dome lit up over a theme park filled only with runners.
On both sides of the ledger there were some things I expected going into the race weekend, and a few other things that were surprising to me.  But before launching into the recap, there was the registration.
Registration.
I virtually ignored runDisney until Disney announced the Star Wars Dark Side Challenge in Orlando last year.  On the one hand its somewhat easy to look past the runDisney races.  $200 for a half marathon? $330 for the 10k/13.1 back-to-back challenge? And tack on another $75 for the 5k? That's $400 for a little more than 22 miles- pretty steep.  On the other hand… Star Wars! I wasn't ready to take a family vacation to southern California just for an expensive Star Wars race in 2015, but Disney decided to import the Star Wars races to the east coast with the 2016 Dark Side Challenge.
With my computer at the ready I was one of the thousands hitting the active.com web servers on September 22 to secure my spot in the Dark Side challenge.  I was hitting Active.com with a few different browsers- and for good reason, since evidently the Challenge sold out in less than five minutes!  But the Force was with me and I secured registrations for the Dark Side Challenge and 5k races.  With over $500 in race fees, those are some of the most expensive shirts I've ever bought!
Fast forward to April 2016.  After months of planning, race weekend and our second family vacation to Disney World was upon us.  With our oldest son at seven and fully enthralled in Harry Potter (through book four), Lego, oh and Star Wars- I had planned a full itinerary- spanning Disney World, LegoLand, and Universal Studios.  Did I mention I was also running 19 miles of races?  All told I raced the 5k on Friday with my son, the 10k on Saturday, and the 13.1 half marathon on Sunday.
Expo & Packet Pickup
We arrived in Orlando Thursday afternoon, and since our room at Art of Animation wasn't ready, we went straight to packet pickup and the race expo at ESPN Wide World of Sports.  Overall the complex seemed to be busy with runners, but not packed.
With three kids in tow there was a shortage of patience for wandering around the expo, so I didn't get to see most of the expensive swag in the second hall.  For similar reasons we took a brief glance at the line to see BB-8 and decided to head over to Art of Animation, where our room was now ready.
5k Friday
Finally time to find out what all those registration fees bought us on race day.  The 5k started at 6am Friday morning- to make it to the race our day started about two hours earlier.  The race guide said we needed to be on board buses by 5am to make the corrals on time.  Fortunately I didn't have any problems getting the boy up a little after four, and we made our way to the waiting bus at the end of the Art of Animation bus depot.  There is something fun about walking out of your hotel room and immediately seeing a bunch of other runners (at four o'clock in the morning) all doing the same thing- groggily making their way to the race, and practically everyone in some sort of Star Wars attire.  In theory we could have driven to Epcot, but since we were running on time the bus seemed fine.  There seemed to be one or two spectators on board the bus, but not too many.
We might have arrived at the staging area around 5:00am or so, but instead of spending a bunch of time milling around the main stage or standing in line for photo-ops with some of the characters, Noah and I just walked to the corrals.  I think that meant we missed the opportunity to have a picture with Jabba the Hut- but like Episode IV I was just fine when he wasn't there.
The 5k had six corrals, lettered A-F, with about 9,800 runners.  Well, perhaps I should say "runners"- more on that in a second.  Noah and I were assigned to corral B, which I thought was reasonable enough.  We were pretty early arrivals, and passed our time talking about the vacation and some of the interesting costumes.   Fortunately Noah's bathroom break came a few minutes before they started to move the corrals to the start line, so we had enough time and wiggle room to get back from the port-o-potties to near the front of the group.  I guess we could have started behind folks in the middle of the corral, but I felt compelled to get Noah back to the front of the corral.
The course roughly looped inside Epcot, starting in the parking lot and getting a mile out of the way before actually entering the park behind Test Track, circling the lagoon, and exiting Epcot by the iconic silver dome.  Having been to Epcot a handful of times and looked over the course on Google Maps I felt familiar enough with the route beforehand.
Once the countdown to race start got underway, Noah and I watched corral A march past us en route to the starting line chute.  When our corral was moved in behind to follow them there were a handful of folks that plead their case to the volunteers to be let back into corral A- pleas that fell on mostly deaf ears.  I'm glad I never got separated from Noah before or during the race.
Fireworks accompanied the start of the wheel chair racers at 5:59 and Corral A at 6:00am a minute later, and finally it was our turn to walk to the start line.  From recollection they separated the corral times by about five minutes or so.  Either way it didn't feel long before we were off!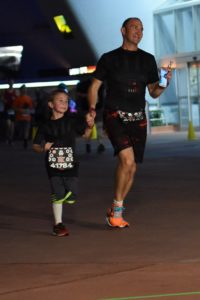 Barely a quarter of a mile into the race Noah and I started passing walkers from corral A.  I was pretty surprised since these participants must have just been walking from the start.  For his part Noah was excited to immediately begin picking people off though.
I think the first photo-op we passed was a fallen AT-ST leg.  I did look twice at this one but I was underwhelmed.  Were all the opportunities going to be half-baked fake props?  No.  Next up was R2-D2, just outside of the back entrance to Epcot by Test Track.  Even after one corral of participants, R2 already had a healthy line, and Noah was more interested in running than taking pictures, which stayed true for the whole 3.1 miles.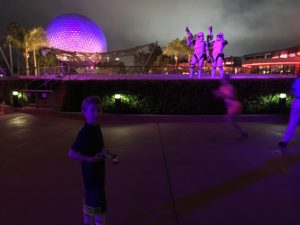 I think there was a Star Wars Rebels character stop at some point in the world showcase, but Noah and I kept going.  Eventually the course cuts west for a short detour off of France/England to a Chewbacca character spot, already with another long line.  Interesting to me that Chewy and R2 were only available for photo shoots on the race course, and not after the race.
After about 2.5 miles we made our way around the Epcot Dome, and headed toward the finish- but not before passing a giant television screen playing the Death Star trench run sequence. What a great way to finish the race!  Noah found another kid preparing to finish slightly ahead of us, and raced him to the finish- I was more than happy to watch them sprint to the end.
The Volunteers handed out our finisher 'medals' (made of vinyl) along with a box of snacks; there was also a healthy amount of PowerAde and water, along with some fruit.  Not the best spread I've seen, but reasonable.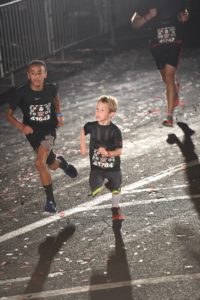 With the race done I paid a bit more attention to what was going on in the staging area, and I convinced Noah to get in a few character lines- including BB-8 and Darth Vader. I was a little surprised he wasn't interested in getting more character pics- with folks like Captain Phasma or the stormtroopers- but I didn't mind leaving too much, since we had plans to get to the Magic Kingdom a little later that Friday morning at rope drop.  I think we were probably back on board a bus to Art of Animation around 7:00am or so.
Overall Noah and I finished the race in a little under 30 minutes- I think we stopped for a brief walk break once or twice.  And what can I say- I don't mind when my son wants to hold hands while we ran for part of the race.
I'll write more on the 10k and half marathon later.